Tornado Table Soccer - Sport
is a product of VALLEY-DYNAMO,L.P.. With over 30 years as a manufacturer of high-quality recreational products, Tornado brings explosive excitement home with a line of rugged, carefully crafted foosball table games. Professional-caliber and built to last, each table in Tornado's line of foosball games combine all the features and speed the players want with classy good looks that will make them a welcome addition to any home decor. Regardless of which one you choose, you'll be making a great investment in a superior home recreation product that will deliver fast-paced fun for many years to come.
[PARTS] ... [ELITE] ... [CLASSIC] ... [SPORT] ... [WORTHINGTON] ... [TOURNAMENT 3000] ... [COIN-OP] ... [USED TABLES]
[BUY NOW!-TERMS OF SALE]
---
Tornado Sport -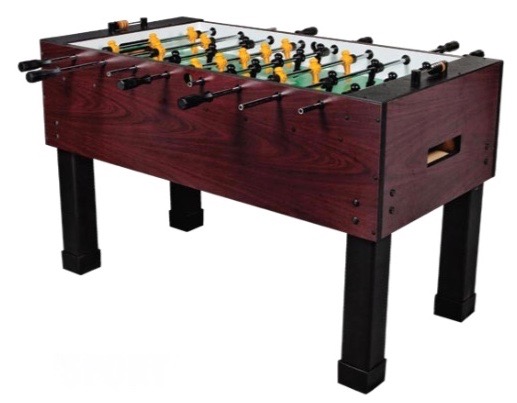 Length ..... 56"
Width ..... 30"
Height ..... 36"
Weight ..... 205 lbs.
The Tornado Sport is the perfect table for both starters and the more experienced player. The height adjustment, durable construction and Mahogany Melamine finish allows for generations of enjoyment from the young, and young-at-heart.

Shipping may, or may not, be included with the prices listed. Please contact me directly via email: jenkins@hiwaay.net, or by phone: Rodney Jenkins (256) 734-6349, for availability and total pricing. Thanks!
Mahogany Melamine finish w/three-quarter inch melamine playfield with Tornado logo
1" thick cabinet side walls and dual end ball return access
SureGrip black plastic handles
Height-adjustable legs with boot-type levelers
---
Buy Now! Click here for information about placing an order:

Thank You!
Rodney jenkins@southernfoosball.com (256)734-6349
---
If necessary, shipping is available. While the shipping rate for shipping one table to areas surrounding the state of Alabama usually ranges somewhere between $100-$175, you should submit your receiving address, city & zip code, for an accurate quote. I use ABF Freight Systems,Inc. where I can extend a substantial discount on the normal rate. The table would ship from Cullman, Alabama 35055. Products picked-up and purchased locally will be subject to the local sales tax.
[TORNADO OF ALABAMA]
[PARTS]
[TERMS OF SALE]
[SOUTHERN FOOSBALL PROGRAM]
[ALABAMA FOOSBALL PROGRAM]
Direct your questions or comments via email to: Tornado of Alabama/Rodney Jenkins at jenkins@southernfoosball.com or phone (256) 734-6349.