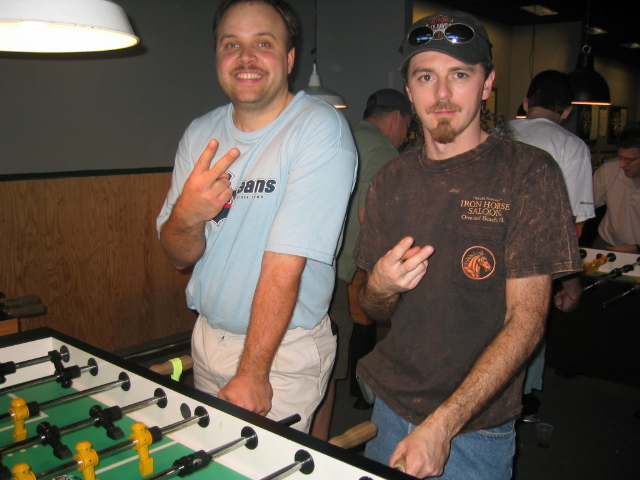 ~TENNESSEE~
FOOSBALL PROGRAM

[CHATTANOOGA] ... [NASHVILLE] ... [MEMPHIS] ... [KNOXVILLE]
[LOCAL TOURNAMENT SCHEDULE] ... [RESULTS] ... [TOP MONEY WINNERS] ... [LOCAL NEWS & ANNOUNCEMENTS]
[SUBMIT RESULTS]


Foosball enthusiasts all over the country enjoy participating in weekly foosball tournaments and/or sometimes league competition. It's possible that there may be a group of foosball enthusiasts already coordinating events in your area. If so, you should take advantage of the opportunity and get out and participate. More of my thoughts are...continued here

The Southern Foosball Program presents occasional regional events in the great state of Tennessee. Listed below is links to that information, as well as, submitted information about local foosball action throughout Tennessee. Included is, at least, contact information for those coordinating, or those "in the know", about the said foos-activity. Also to be included is any collected resulting information, all of which create our Tennessee Foosball Program. Information is usually updated during the first five days of each month-if not before; however, all is subject to change at any moment--you should check back often for possible updates. This information, if any, will be the result of submission by those "in the know", and it's actuality will be dependent. While efforts will be made to confirm the accuracy of suspicious input, the Southern Foosball Program will make no guarantees of accuracy about what is posted herein, one should use their own judgement. Certainly, prior to making a long drive to participate, you should first contact someone in the know to get an idea of current activity status.

Pictured above is two-time Tennesse State Champs of semi-pro doubles 2003 & 2004, Marty Fagan & Jesse Maynard of Jonesborough,TN. & Bristol,TN. This page is being sponsored by the Southern Foosball Program and Tornado of Alabama, your source for foosball tables, parts, and service--homemodels and coin-operated. Those interested in becoming a sponsor, or simply pledging support for the goals of this page and Program, please go here.

TENNESSEE
Chattanooga

Contact Jason Martin for information about local tournament action on Tuesday & Saturday evenings in the Chattanooga area @Bundy's Billiards located at 6002 Lee Highway. They are also presenting substantial cash added BYP events on sellect Saturdays of each month. Lot's of top players from the surrounding areas often participate. Phone Jason @(706) 931-2484, or Bundy's @(423) 893-9408.

Nashville

Contact Buffalo Billiards. Local player Terry Hedges is involved in coordinating events on Thursday nights. Phone (615) 313-7665.

Memphis

The local foosball action is at "High Pockets" located on Old Summer Rd. Local player Eddie Underhill helps coordinating events on Monday nights at 8-8:30pm.

Knoxville

Visit possible tournament action at "Coolbeans" on the strip every Tuesday 7pm. Draw your partner while the owner matches the pot! Call for info and directions: (865) 898 4003
[RESULTS] ... [TOP MONEY WINNERS] ... [SPECIAL TOURNAMENTS] ... [NEWS & ANNOUNCEMENTS]

Local Special Events:
1-1-05 Bundy's Billiards $200 added! in Chattanooga

@6:00pm open draw/ @9:00pm open doubles - (Anyone can play)

March 18-20th 2005 ... Tennesse State Championships ... Wheels
... [RESULTS] ... [TOP MONEY WINNERS] ... [NEWS & ANNOUNCEMENTS]
[REGIONAL EVENTS] & [RESULTS]
---
LOCAL RESULTS:

1-1-05 CHATTANOOGA - Open Doubles/ Billy Caylor & Mickey Munger
2-5-05 CHATTANOOGA - Open Doubles/ Billy Caylor & Rodney Jenkins
2-26-05 CHATTANOOGA - Open Doubles/ Billy Caylor & Rodney Jenkins
4-2-05 CHATTANOOGA -Open Doubles/ Rodney Jenkins & Tony Gamso


[TOP MONEY WINNERS] ... [NEWS & ANNOUNCEMENTS]
---
TOP MONEY WINNERS:

$290.......Billy Caylor
$250.......Rodney Jenkins
$135.......Tony Gamso
$120.......David Phillips
$90.........Mickey Munger
$85.........Bruce Stancel
$80.........Mark Witt
$40.........Jackie Farrow
$25.........Todd Brooks
$25.........Eddie Hutson
$20.........Cliff Williams
$20.........Bill McBurnett


(For the period Beginning in January 2005 through present)

[NEWS & ANNOUNCEMENTS] ... [SouFooPro]
---
LOCAL NEWS & ANNOUNCEMENTS

2-28-05

The Program will present it's 2005 Tennessee State Championships during the weekend of March 18-20th with specialty events beginning on Friday evening continuing on Saturday with the main event and then finishing on Sunday with finals. Prizes along with guaranteed cash is estimated to reach a value exceeding $2,500. Open Doubles is the main event and all are welcome and invited to bring a partner and participate. Those that register for open doubles will then be qualified to enter and compete for state championship titles in several other specialty events to be presented during the weekend. See the FLYER.
"Wheels", the host facility: will be the same location as last years' State but under new management and new name: Wheels. For those who haven't been before, the location is at 4749 Hwy. 58 in Chattanooga. Travel Interstate 75 and exit at Hwy. 153 which travels Northward. Travel 153 to Hwy. 58 and turn right. "Wheels" is located just a short distance on the left.
The location management is excited about hosting the event and promises the players will no-doubt enjoy the very nice and spacious atmosphere along with all the many great features the location has to offer which includes restaurant, beverage bar, billiards, darts, and a connected room for night club/dancing entertainment. All are welcome and invited to come out and participate; however, age 21 or above is required. The location phone number is (423)894-4000, but all questions about the state tournament should be directed to the Southern Foosball Program Headquarters/Rodney Jenkins(256)734-6349. Hope to see you there!
Hotel: There's plenty of reasonably priced Hotel's within 3 minutes drive from the tournament location. Listed below is hotels located just off Interstate 75 at Exit#5 close to the "Hamilton Mall" area.
Microtel Inn is probably the most economical: (423) 510-0761. Directions: Exit 5, West to Shallowford Village Dr., Then left on McCutcheon Rd.
Fairfield Inn is located in the same area: (423) 499-3800. Located at 2350 Shallowford Village Drive
Ramada Limited is another in the same area: (423) 855-2090. Directions: Located at 2361 Shallowford Village Drive

8-25-04

Chattanooga's Mark Witt won a pair of "rod locks" at 2004 KY. State. We're all so very proud of him!

6-28-04

Ongoing tournament action announcement! Jason Hartline along with Bundy's Billiards, of Chattanooga, are still coordinating the $200 Added! bring your partner tournaments on the first Saturday evening of each month. This has been going on for quite some time now and has been a very enjoyable event to attend. Several top players, including myself, from the surrounding areas have been participating in this event. DYP action is usually presented earlier in the evening as well, call (423)893-9408 for information. ...Rodney

3-30-04

The Southern Foosball Program presented its 2004 Tennessee State Championships during the weekend of March 26th – 28th. A total of 66 players participated in a weekend of events where top players from all over the region battled it out for more that $5,000 cash and another year of bragging rights.
A couple of the nations top competitors made the trip down south to participate, Terry Moore, of Illinois, and Billy Pappas, of Massachusetts, together they claimed the open and main event titles. Billy won the winners bracket of open singles but was eventually double-defeated by "big Terry Moore" during the finals. Rick Macias, of North Carolina, finished 3rd place.
Terry & Billy teamed together for the open doubles event and won the title defeating a last minute team-up and entry, myself, Rodney Jenkins, and local player Todd Brooks. I wasn't planning on participating in the tournament and I wanted to solely concentrate on coordinating the events, but since several elite players from up north made the long trip down south to participate I decided to try and provide them with as much southern hospitality as available. Rick Macias, along with Marty Fagan, of Jonesborough, TN., finished 3rd place.
Marty Fagan and team mate, Jesse Maynard of Bristol, TN., were able to defend their 2003 title by claiming the 2004 Semi Pro Doubles title defeating a very hot Terry Hedges & Eddie Hutson in the finals.
Terry Hedges, of Nashville, TN., is well known for his illusive magical talents and has now gathered much respect for his foosball talents as he was able to capture both rookie titles, rookie singles and rookie doubles. The rookie doubles title is a defending title for Terry as he also won the event is 2003, but this year teamed with local player Eddie Hutson. As mentioned above, the pair put forth a bold performance during semi pro doubles as well, finishing a very respectable 2nd place.
Mississippi's Donald Wilson was "Mr. Semi Pro Singles Player" at the tournament as he claimed the semi pro singles title to go along with a 4th place finish and top semi pro in open singles.
I'd like to congratulate, and thank, all that participated during the Tennessee State Championships. The host facility, "BW's Rack Room", was very impressed with the foosball players as a group, and has offered open doors for any of the Programs future events in Chattanooga. Thank you!
Until next time, keep on foosin, and look for future events presented by the Program posted on the web at: southerfoosball.com. Complete results are included at: [RESULTS]. ..... Rodney Jenkins

3-4-03

The Southern Foosball Program presented it's Tennessee State Championships during this past weekend of March 1st 2003. Players from all-around the region gathered in Chattanooga, Tennessee for this outstanding weekend of foosball tournament competition. The host facility was "Breakers Saloon" which turned out to be an awesome place for a foosball tournament, the Program will likely return for additional events in the future. During the weekend, eleven championship titles were earned along with over $4,000 in cash and prizes. A total of 56 players participated in the weekend of events where players like James Porter, Cindy Head, & Scott Cook proved their mightiness.
James Porter, of Huntsville, Alabama, had a great weekend winning rookie singles & doubles--he then came very close to winning semi pro doubles as well. James' partner for the rookie doubles event was none other than Nashville's fooser & "magician practitioner", Terry Hedges. Terry entertained the players with his card tricks and magical skills during the weekend. Meanwhile, on the other side of the tournament room, Cindy Head, of Birmingham, Alabama, was performing some magic of her own. She rose to the top-of-the-winners position of the open singles chart after defeating Rick Macias and then Steve Dodgen. She then held off the efforts of Scott Cook in the finals to claim the singles main event title. Scott Cook continued and eventually claimed the remaining main event titles, open doubles & open mixed doubles. Scott is presently living in Atlanta; his partners were fellow Georgia players Chris Weaver & Dawn Foust. Congratulations to these players as well as all others earning titles during the event, they are completely listed at: TNstate03.
Until next time, good luck keeping your rods slick and straight!

2-18-03

The Southern Foosball Program visits the lovely City of Chattanooga, Tennessee with it's efforts presenting the Tennessee State Championships of foosball competition this 2003. The event is scheduled for the weekend of March 1st with specialty events beginning on Friday evening continuing on Saturday with the main events and then wrapping up on Sunday evening with the finals. Breakers Saloon is the City's newest and hottest place to be for billiards/restaurant/night club/dance hall entertainment, and will be serving as the host location for this tournament. "Breakers" has allot going on and players will no-doubt enjoy the very nice and spacious atmosphere along with the many other great features the location has to offer. The locals are very excited about the tournament and would like to invite anyone interested to come out and participate. Follow this link to the TN.STATE FLYER & POSTER with additional information about the tournament. Hope to see you there!

4-30-01

In Chattanooga Tennessee during this past weekend Aaron Hartline and Bundy's Billiards jointly presented a "Foosbash" foosball tournament. I attended this event and had a great time. I enjoyed being there as a player and not the tournament promoter for a change. There was a good turn-out of players for the event. Hopefully, Aaron & Bundy's will host additional tournaments in the future.
I'm not sure about all the results, perhaps they will post them in the foos-newsgroup??? Here are some results that I remember:
During open singles Frank Goff dip-defeated Steve Dodgen in the final while Rick Petro finished 3rd place.
During open doubles Billy Caylor and myself (Rodney Jenkins) defeated Chris Folsom and Mickey Munger in the final. Steve Dodgen & Ken Williams finished 3rd place while Frank Goff & Kathy Hilts finished fourth.
During Semi Pro Doubles, local ex-pro Todd Brooks won 1st place teamed with an also local Mike Guffey. They defeated David Phillips and Mark Witt.
Sorry, that's all I can remember at this time. If someone supplies me with additional results I will try and post them for you.
---
If you're reading this you'll probably agree that foosball is a very unique game. It can be very fun, and some people will say that it can be addictive. In most areas throughout the Southeastern USA it's not easy to find places where you can walk in and find a foosball table with experienced players available for games. It's been my suggestion that foosball players should try to establish a location where they can designate days and times for enthusiasts to show up and all can then satisfy their craving to play foosball. In fact, that's exactly the principle that lead to the creation of this Southern Foosball Program. It's a popular practice for these types of gatherings to eventually lead to some type of coordinated competition format.

It's my intention to include submitted information that will help any persons interested in finding foosball activity in areas scattered throughout the Southeastern USA. If you know of places where coordinated efforts have established an event, whether it's every-week, bi-weekly, or even monthly, if it's presented in sportsmanlike fashion and if it's open to anyone to participate, please submit this information to Ala_Foos@yahoo.com. It's very likely we will add that information here so that possibly others will learn of it and open the door for the possibility of growth in the local player base.
---
Direct your questions or comments to the Southern Foosball Program/Rodney Jenkins by email: Ala_Foos@yahoo.com.

[FOOSBALL TABLES FORSALE]
[PARTS]
[FOOS-GEAR & APPAREL]
[TERMS OF SALE]
[SOUTHERN FOOSBALL PROGRAM]
[ALABAMA FOOSBALL PROGRAM]
[SPONSORS]