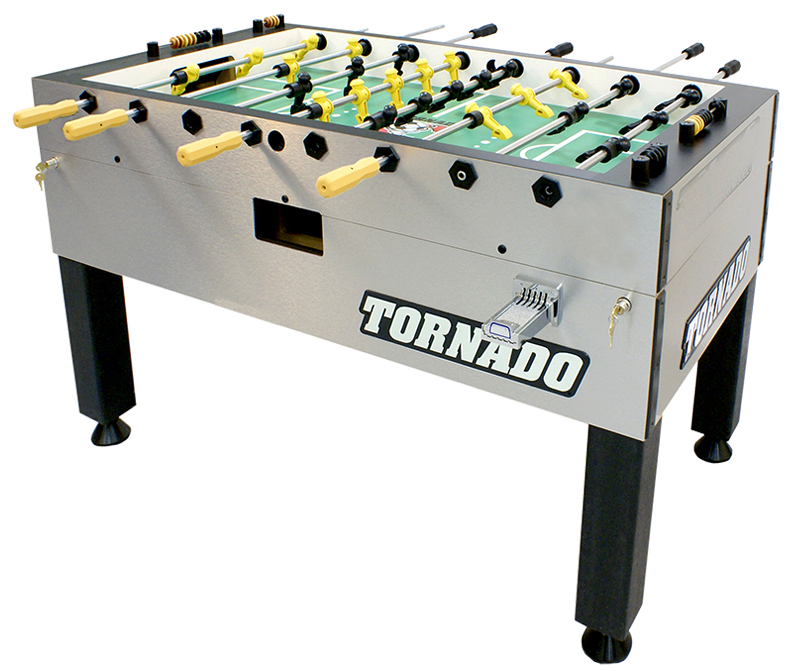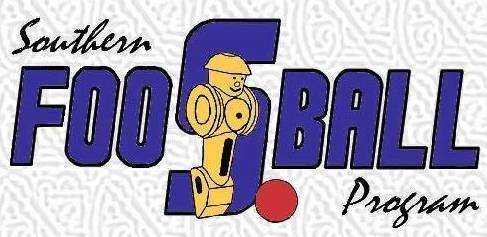 [HOME MODEL FOOSBALL TABLES] ... [COIN-OP] ... [USED] ... [PARTS] ... [BUY NOW!-TERMS OF SALE] ... [SOUTHERN FOOSBALL PROGRAM]
---
TORNADO OF ALABAMA

is an authorized dealer and promoter for Tornado Table Soccer which is a product of Valley-Dynamo, Inc., located in Richland Hills, Texas. Tornado of Alabama operates out of North Alabama and usually has, in stock, and available for sale the complete line of Tornado foosball tables and replacement parts. Tables are available also for businesses interested in coin-operated tables and/or consignment opportunities.
Whether you're looking for a fun table for the home, business, or office, something to provide a little recreational time with the family and friends, or if you're in need of a table to help you practice your skills in an effort to become more dominant on the professional foosball Tour, Tornado of Alabama has the table for you and can be your source for foosball tables, parts, and supplies. The entire line of Tornado foosball tables come packed with all the high-quality Tornado features-- including the unique playing characteristics that have made "Tornado" the standard foosball table and the players most popular choice in the USA.

Tornado of Alabama is committed to offering it's products at the best prices available, and customer satisfaction is guaranteed! Listed below is a brief description, as well as, links to additional pictures and information of the various models of Tornado foosball tables available through Tornado of Alabama. Shipping may, or may not, be included with any prices listed below. Contact me directly preferably via email: jenkins@southernfoosball.com, or by phone: Rodney Jenkins (256) 734-6349, for availability and total pricing. Thanks! A convenient owners' accessory kit is also available, and, occasionally, used tables are available as well.

------------------------------------------------------------------
Due to its' high quality, durability, and professional playing characteristics, the Tornado foosball table is the players most popular choice among commercial and home model foosball tables on the market today. The Platinum Tour Edition is sanctioned and is used by almost all major table soccer tournament associations throughout the USA and internationally.

Three man goalie
Contemporary and rugged Stainless-steel laminate finish with end protectors and bold Tornado graphics
Patented Tornado men improved with sharper corners and increased cross section for better ball control and passing.
Thin-wall split competition bearings allow for greater control and shot blocking
ITSF-sanctioned Score assemblies with match and game counters
Color-keyed, super high grip, interchangeable handle system exclusive to Tornado
5-coin push chute mechanism
Adjustable leg levelers and solid commercial grade legs
Three quarter inch thick playfield and split cabinet design with full-access hinged top
Cabinet design allows table to be shipped assembled, allowing for quick and easy set-up on location. 30 minutes from box to first game!
56"L x 30"W x 36"H / 355LBS

*For a period of several years, it's amazing how many Tornado foosball tables that have been purchased for the business or corporate office. Apparently, playing foosball has become a popular choice of recreation for stress-relief at the workplace.
For information on availability, contact Tornado of Alabama/Rodney Jenkins at jenkins@southernfoosball.com, or (256)734-6349.

------------------------------------------------------------------

The Tornado Elite is a commercial-capable foosball table also unique for the home. This commercial quality table features availability in various laminate colors and the following additional features:

Down corner construction with 1.5 inch sidewalls for durability and stability
Durable exterior laminate with dual ball-return access
Patented three-piece bearings for ease of service
Commercial-quality heavy gauge rods, adjustable leg-levelers, and natural wood handles
56"L x 30"W x 36"H / 225LBS

*All quality Tornado foosball tables are unique of the following features:


Quality American-built construction .....[HOMEMODLE TABLES]
Re-designed player-figure "foot" allows more precise ball control with higher cross hatching and square sides
Patented process ground balls provide the smoothest and most accurate playing characteristics available
3/4 inch playfield laminated with precise graphics to enhance shot accuracy
Patented rubber bumpers, counter balanced player-figures, and the unique ball guarantee a potential for an unmatched superior level-of-play experience and are a result of Tornado's commitment to being the foosball industry leader.
Upon request, the "Fundamentals of Foosball" video will be included with a purchase of the owners' accessory kit along with your new homemodel table.

------------------------------------------------------------------
The Tornado Classic homemodel foosball table combines a contemporary look with heavy duty construction and many of the features found on the commercial tables.

Down corner construction with 1.5 inch sidewalls for added stability
Soft leather laminate for a contemporary look
Single side ball-return and natural wood handles
Adjustable legs for easy leveling on uneven surfaces
56"L x 30"W x 36"H / 225LBS

------------------------------------------------------------------
The Tornado Sport table is the perfect table for young foosers and the more experienced player alike. The adjustable height and durable construction allow for generations of enjoyment. [INFORMATION]

Adjustable leg height feature for young up and coming foosers
Mahogany Melamine finish and 1 inch sidewall construction
End of cabinet ball return access
Sure-Grip black plastic handles
56"L x 30"W x 36"H / 205LBS

------------------------------------------------------------------
Tornado commercial grade performance built in a beautiful, finished-wood table. The contrasting Black and Soft Maple stain brings a warm look to any game room, and matches the Worthington tables from Champion and Connelly.

Black and soft maple wood finish
Down corner construction with 1.5" sidewalls for durability and stability
Patented three-piece bearings for ease of service
Commercial grade rods and adjustable leg levelers
56"L x 30"W x 36"H / 350LBS

------------------------------------------------------------------
Tornado of Alabama operates foosball tables in many areas throughout the Southeast. As a result, a limited number of used coin-operated Tornado foosball tables are usually available for sale sometimes starting at $795 & up. Usually available also, are tables that are being used for tournament competition which are sometimes in near new condition or very good condition - $1,595 each. Sometimes available also are those used-only for one particular weekend of tournament competition - $1,799 when available! Coin-ops can be easily converted to operate free-play. A discount is possibly available if you're interested in purchasing multiple tables. Contact Rodney jenkins@southernfoosball.com, or (256)734-6349. At this time, foosball tables don't come any better than the "Tornado-3000" Platinum Tour Eddition. Every "coin-game operating business" shouldn't be without the Tornado coin-operated foosball tables.


Buy Now! Click here for information about placing an order:

Thank You!
[TERMS OF SALE]
[PARTS]
[USED FOOSBALL TABLES FORSALE]
[SOUTHERN FOOSBALL PROGRAM]
[ALABAMA FOOSBALL PROGRAM]
[SPONSORS]
Direct your order, questions, or comments to Tornado of Alabama/Rodney Jenkins preferably via email: jenkins@southernfoosball.com, or by phone (256) 734-6349.